Imagine you and your loved ones gathered around your stunning new fire pit table on a crisp, fall evening. Everyone is enjoying themselves, and even remarking at how elegantly the flames are dancing above the shiny fire pit glass.
All of a sudden, a strong, errant breeze blows in, with no sign of letting up. Your once tall, bright flames are now reduced to a low, blue heat, forced to fight for their lives as they struggle to regain their majestic stature.
Your guests are let down, and even worse, a bit chilly. While you obviously can't control the weather, there is something you can do—protect your flames with a glass wind guard!
What is a fire pit glass wind guard?
Also known as windscreens and fire guards, glass wind guards are a must-have accessory for any gas fire pit table. Not only do they improve the quality of the fire by blocking the wind, but they also provide a safety barrier between the fire and your tabletop.
Wind guards are primarily made with clear, tempered glass that can withstand high temperatures and won't obstruct your view of the fire. They are often held together with fire-resistant metal brackets and supported with anti-slip rubber pads to protect the surface of your table and prevent any unwanted movement.
The benefits of a fire pit glass wind guard
They keep the flame from going out.
It doesn't take much of a breeze to disrupt the flame in your fire pit table. The glass wind guard blocks those pesky drafts, keeping your blaze burning strong and steady all evening long.
They provide an added measure of safety.
There's no denying that fire is a mesmerizing thing. If you have a lower-to-the-ground table, in particular, you may want the additional peace of mind knowing the glass wind guard will help deter young children and curious pets from getting too close to the open flames.
They can save you money.
If a flame is unprotected, it needs to burn harder to counteract the wind trying to put it out. This additional energy requires more fuel, which can add up fast. With a glass wind guard in place, the fire won't have to work as hard which will save you money on your gas/propane bill.
They help keep unwanted items out.
There's arguably no better time to utilize your fire pit table than a cool, autumn evening. Unfortunately, that's exactly when leaves and seeds can all too easily end up in the flames. With a glass wind guard in place, you won't have to remove nearly as much debris before and during use.
They're a stylish addition to your fire pit table.
Glass wind guards offer much more than just functional benefits. They are an easy and cost-effective way to make your fire feature much more modern and elegant. Plus, you and your guests will love how the fire reflects off the surface of the glass!
How to choose the correct glass wind guard for your fire pit table
At So-Cal Fire Pits, we have a wide variety of Outdoor Greatroom, HPC, and custom COOKE Furniture glass wind guards for both commercial and residential use. With so many options to choose from, we've put together this 6-step buyer's guide to help you find the ideal glass wind guard for your fire pit table.
1. Select the shape that matches your fire pit
While this may be fairly obvious, you're going to want a wind guard that is the same basic shape as your fire pit. The three most common wind guard shapes are circle (round), square, and rectangle.

If your fire pit table doesn't fall under any of those shapes, COOKE Furniture can create a custom glass wind guard to meet your specific requirements.
2. Measure the correct size for your fire pit
The most common question we get asked by our customers is, "What size wind guard do I need for my particular table?" Unfortunately, the only way to know for certain is to measure your fire pit!
The most important thing to note is that the wind guard has to be bigger than the fire pit opening. You DO NOT want your glass wind guard to be in the interior of the burner pan, as they're not designed to be directly in the fire.
We recommend using dimensions that extend 2 inches beyond your fire pit opening on each size. If your tabletop is smooth and level, it can be as close as 1 inch away, but 2 inches is a very good rule of thumb to follow.
So, for instance, if your rectangular fire pit opening measures 12" x 24", we would recommend a 16" x 28" wind guard. For circular fire pits, you just need to take one measurement of the diameter. If the opening is 20 inches, look for a wind guard that's at least 24 inches wide.
3. Choose the style of wind guard that you like
There are two common types of wind guard construction—those that are held together with metal clamps and those that are bonded together.
Clamped together wind guards have metal corner clamps that hold the glass panels in place, with the bottom clamps typically also containing rubber feet to keep the guard in place. We like these wind guards as they're a great value and can be shipped easily to almost anywhere.
Bonded glass wind guards feature a unique construction with no metal clamps. COOKE Furniture custom miters the corners and bonds the wind guard together to create a super-durable, commercial-grade wind guard with a totally unobstructed view of the fire.
Our residential customers absolutely love the simplicity, look, and durability of these bonded wind guards. Our commercial customers appreciate that they're easier to clean, there are no clamps that can loosen over time, and there are no small parts to lose or that may need to be replaced.
4. Select the height that you want
Most glass wind guards are available in 6–10-inch heights but can also be customized if needed. Shorter wind guards are great for smaller fire pits and provide adequate protection, whereas taller wind guards will block more wind and are ideal for larger fire pits and longer glass panels.
5. Choose the glass thickness you need
Glass wind guards are available in a variety of tempered glass thicknesses, from 3/16" and 1/4" to 3/8" and 1/2". Most wind guards today are produced from 3/16" glass.
That said, if you have a larger residential or commercial fire pit, you'd be wise to consider 3/8" or 1/2" thick glass. It's heavier (won't slide as easily), more durable, and provides a much more premium look.
6. Pick your preferred glass material
There are two types of glass that can be used for gas fire pit wind guards—clear tempered glass and Starphire Ultra-Clear glass.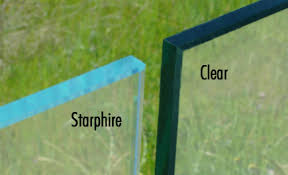 Clear tempered glass is by far our most popular option, as most wind guards produced today are constructed with it. Clear glass has a slightly darker, greenish-blue tint as a result of the natural iron in the glass. That said, most people even don't notice this as the vast majority of glass has this effect.
Starphire Ultra-Clear glass, on the other hand, is premium architectural glass that has especially low iron content. This glass does not have even the slightest tint to it, which makes your view of the fire literally crystal clear. Starphire glass is the more expensive option, but our customers who have purchased it absolutely swear by it!
Find your ideal glass wind guard at So-Cal Fire Pits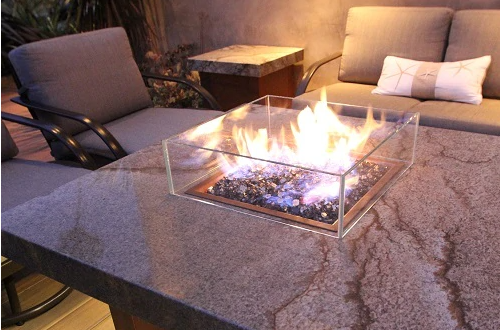 Now that you know what to look for, it's time to start browsing our wide selection of glass wind guards that are both name-brand and custom-made. Our wind guards are all made with only the highest-quality materials and backed by an industry-best warranty.
Are you still unsure about which glass wind guard is right for you? Contact us today and we'll be happy to work with you to make the most of your backyard fire feature.